Welcome!
This website is the official hub for all information related to Eric Flint's 1632 series (aka Ring of Fire series), including information for prospective authors.  Assembled here are all the technical information, archives, and files of interest to the happy habitants of the Baen's Bar 1632 Group. You are invited to browse this site, get involved in the discussion groups and even read the free e-book versions of the story that started it all – 1632.
Feel free to browse around the site for files and pages of interest to Barflies in general and those who would write in the 1632 Universe. If you want to include an up-timer in your story, you need to get your character from Virginia's Grid.
Eric says you can make up down-timers because there's milyuns and milyuns of 'em. But famous down-timers … he may have plans for.
Potential authors need to check out the Author's Manual files and peruse Rick Boatright's "Dead Horses" article to see if your idea has been flogged to a pile of dog food.
In any case, You are welcome to browse, lurk, participate, smoke, maybe burst into glorious song or even flames. Stranger things have happened here … recently!

So you want to write a Grantville Gazette story?
When a 1632 fan sits down at the computer keyboard and starts tapping out a story, the motivation is often to explain how some gizmo of the future gets introduced to the 1632 Universe. Radio. Rubber. Machine guns. Whatever. The catch is, that's the background, not the story. Stories are about people, not gadgets.
The 1632 universe is a very unusual critter. It is an open universe. We want you to write in it. We'll be very happy to pay you to write in it. Over one-hundred thirty authors have found that out.
Still, any successful series has to have rules, and these pages will help you find your way around while writing for the Gazette or for the Ring of Fire Press.

Style Sheet
The official style sheet for the 1632 series.

Submission Guidelines
How and where to submit stories for the Grantville Gazette.

Sample Manuscript
A real-world case study of THE RUDOLSTADT COLLOQUY by Virginia DeMarce.  With notes by Eric Flint.

Words of Wisdom
Eric Flint explains in detail what he's looking for in a story.

Manuscript Guidelines
Outline of formatting rules and conventions for your submission.

Rules for 1632 Slush
A brief "how to" on posting your story to 1632Slush conference on Baen's Bar.

Suggestions for You
How to write a story that will fit in the 1632 universe.

The Many Halves
Eric explains why there need to be limitations on characters.
If you want to write a story set in, say, summer of 1634, it is good to know which stories already in canon are also "running" in the summer of 1634.
The 1632 Series Timeline is a reference for writers and readers compiled by John Bogan. Its goal is to list the times and places of events occurring across the 1632 universe in all the novels, anthologies and e-magazine stories.
In much the same way that The Grid tracks people the Timeframes list tracks the periods of stories and individual events. The goal is not to obsessively place a date on every event (though there is a bit of that here and there), but rather to give writers a better "ballpark" view of what has and has not occurred in the time and place of their potential stories.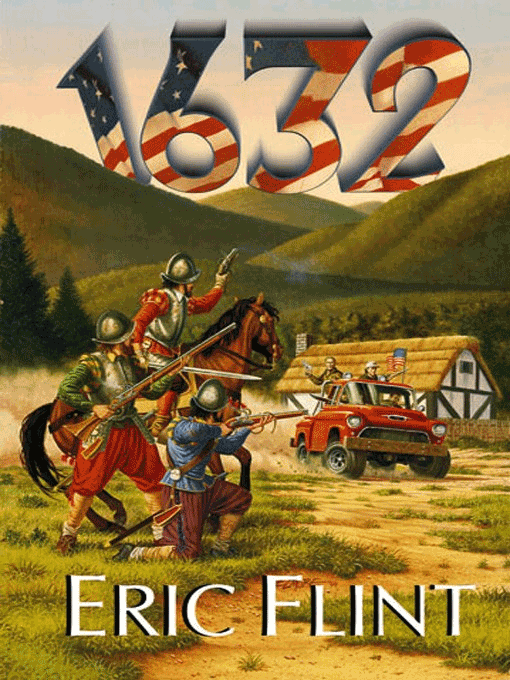 The 1632 universe operates on a different set of rules than other SF or Alternate History shared universes.
To the extent possible, we try to write the stories in such a way that they are plausible in the real world, and to that end we use real science and real technology.
This section documents the rich and complex results of our author's and reader's contributions to that plausibility.
Some of the sections or items listed in the 1632 Tech menu below are constantly shifting lists of posts about that material. Others are pages that link to semi-static resources. Feel free to dive deep and enjoy what you find.

The Grid
Originally created by Virginia Demarce, The Grid contains the names and relationships of all the people who came through the Ring of Fire.  A must-read resource for anyone writing about the people of Grantville.

Dead Horses
Many smart people have discussed the technology of 1632 over the years, and chances are your idea has already been covered. Start your research here to see if your idea has been previously discussed, disproven, or dismissed.

FAQs
A favorite saying in the conference is that a dead horse will suddenly kick or outright get up and start walking around when someone new asks questions. Don't let the existence of the FAQs keep you from bringing something up.

Maps
Maps of Grantville & Thuringia showing the effects of the Ring of Fire event. Real maps of Mannington, WV on which Grantville is based. Other topographical, political, and economic maps.

1632 Search Engine
Mike Watson has created a search engine with the full text of many novels in the Ring of Fire series, as well as issues of the Grantville Gazette. This site solves many problems in researching 1632 canon.

Gazette Extras
Material (bibliographies, tables, research notes, deleted text, etc.) which didn't fit into a gazette article but which the author thought was worth making publicly available. Like the extras on a DVD.